Stillwater Coffee Celebrates Caffeinating Hiawatha for One Year
Starting a business is always exciting and challenging, and the last year has been particularly interesting for Stillwater Coffee in Hiawatha. This independent java shop's ability to adapt its services to the rigors of the pandemic halfway into its first year deserves another cup of caffeine!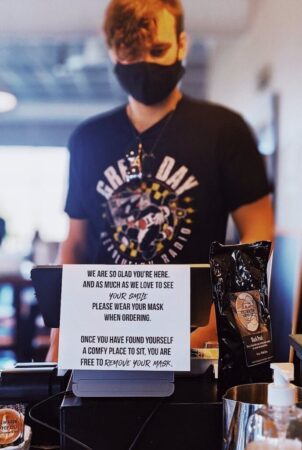 Stillwater is Drs. Nick and Kim Morio's creative solution for giving back to the community that has supported their dental implant and surgery clinic. What better way to do that than by offering coffee—something so many people enjoy? They turned their office's waiting room into a coffee shop for charging up with caffeine, meeting friends, or bringing the family for a treat or bite to eat. And their patients can still enjoy a comfortable wait before appointments.
The Stillwater Coffee name is appropriate to their peaceful setting overlooking a pond on the north side of the building. The space offers comfy chairs and couches near a fireplace as well as tables and chairs. A large patio provides a view of Hiawatha to the west.
Alisabeth von Presly, manager of the shop, says Hiawatha is a blend of business and creative people as well as families, and the clientele reflects the makeup of the community.
As for the menu, Stillwater Coffee provides a range of drinks and food options, many of which are locally sourced, and their house-roasted coffee beans. For coffee drinks, the shop specializes in unique lattes, such as their Lavender Mist latte, Stout Latte with caramel and coconut, and Midsummer Mocha, a dreamy red raspberry-white chocolate concoction. For the morning crowd, they offer house-made pastries, Rustic Hearth bread and cinnamon rolls, keto-approved smoothies, and breakfast sandwiches. Their menu includes craft beers, wine and other foods and ingredients from local farms and suppliers, whenever possible.
When the pandemic came along earlier this year, Stillwater Coffee took the initiative seriously, requiring customers to wear masks upon entering and while not seated and providing socially distant seating indoors and out. But they also added lighter touches, like their sign to encourage distance that says, "Stay 3 Freddie Mercury wide stances apart." They also offer masks to anyone who doesn't have one.
They embraced online ordering of their beans as well as takeout coffee and food orders.
"Pandemic or not, people need to be caffeinated, so we want to make sure we are offering a safe way to do that," Alisabeth says.
The shop continues to thrive on that model and give back to the community. Their latest plans have included Sunset at Stillwater, a concert on September 26th to benefit recovery from the derecho. Performers include five favorite local musicians, and there will also be local artists who have crafted beautiful items from Derecho-damaged trees. The artists have created lamps out of tree branches, large cutouts, and sculptures made out of fallen trees. There will be limited seating available to ensure social distancing while enjoying a spread of beer, wine and fall foods.
If you're looking for a space to meet in Hiawatha, Stillwater Coffee Co. offers another option for coffee and a bite to eat in a casual setting.