Karma Coffee Café…Warm Coffee and Good Karma
As a small business owner during these crazy times, all Karma Coffee Café can do is open their (drive-through) doors, smile and keep moving forward. And that is precisely what they are doing. Karma Coffee Café has enveloped our community with welcoming arms, a warm cup of coffee, and has pushed through this COVID-19 pandemic with grace. 
Working in a coffee shop, you get the privilege of meeting and interacting with many individuals,somethi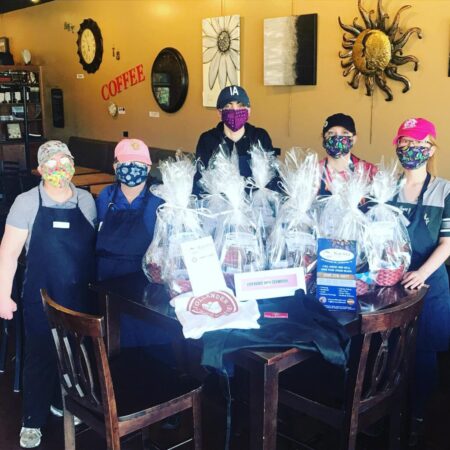 ng Karma Coffee misses dearly during this COVID-19 pandemic.
However, what has truly kept them going, is their customers who have continuously reached out and checked in on them. Even new customers have checked in to share good news and small bits of hope during this time. That is why when they are able to reopen, they will have a guest book where people can sign their name and check in so they can remember everyone. 
Karma Coffee Café has noticed the impact they've had on the community, and the impact the community has had on them. Customers have even been reaching out to Karma Coffee to buy a gift card and then asking them to anonymously donate the gift card to others in the community. These customers have raised their spirits and have given them something to look forward to during these uncertain times. 
To show their appreciation, Karma Coffee has teamed up with Barista Pro Shop and Hollander Chocolate to give away free high-end specialty hot chocolate to the front-line workers. To add to it, Karma Coffee Café is also adding in their own Karma Bites (vegan, paleo energy bites) to show their support and make an impact on the Hiawatha community as well. 
Over the next few weeks, Karma Coffee Café will be delivering 15 care baskets to the Hiawatha Fire Department, Police Department, Mercy Respiratory Clinic, and the COVID-19-affected services in the hospitals. These care baskets will be packed full of wonderful hot chocolate and energy bites for the personnel to share and indulge in. 
Karma Coffee Café is just one of many incredible stories of small business owners throughout Linn County who are adapting and giving back to the community during these tumultuous times. The chaos of COVID-19 is stressful and scary. However, if there is one thing we can all agree on, it's that we are counting down the days until we can sit down in Karma Coffee Café again.