Honkamp Krueger & Co, P.C. – Hiawatha Pulse

In 1999, CPA and business consulting firm Honkamp Krueger & Co, P.C. (HK) opened a location in Hiawatha. HK's areas of focus are accounting, audit, tax, business advisory, financial advisory and payroll/human capital management. Knowing the community was a busy, growing area, they believed Hiawatha was the best place to continue their passion for helping people and businesses.
Providing expertise to help individuals and businesses excel at their finances is their goal, and they accomplish that by making customer service a priority. In addition, the company is highly involved in philanthropy. HK enjoys giving back to the community that helps make them successful.
Learn more about Honkamp Krueger by reading some questions they recently answered.
Q: How long has Honkamp Krueger been in Hiawatha and why did you bring your business here?
A: We acquired a practice in Hiawatha in 1999. We started another location here because there was a prevalence in the metro market, it was the right location and the community was friendly and accommodating.
Q: What sets Honkamp Krueger apart from the competition?
A: We are heavily focused on advisory services meaning it's not just about tax, audit or accounting compliance. We are also business advisors who help businesses improve profitability, manage their workforce and create wealth. With our resources and services, we're able to be a true business advisor and help our clients reach their business goals rather than solely completing tax returns or an audit.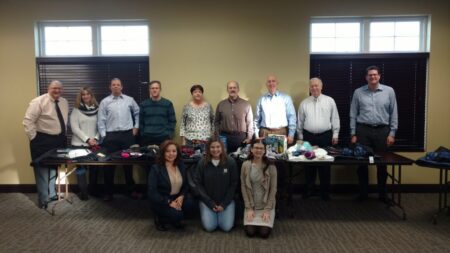 Q: What does community involvement and philanthropy look like for Honkamp Krueger as a business and for employees?
A: The firm was founded by people who believed in being givers and not takers, so philanthropy became a part of our culture. It's an opportunity to give back to our communities, and it involves employees on all levels.
In addition to being involved with United Way and the Boys and Girls Club, before Thanksgiving, we have an event called the Turducken—a turkey, duck, chicken meal plus traditional Thanksgiving sides—in all of our offices, where we raise money for the holiday season. Each office has a different cause the money is donated to, but typically, the money goes to families who need food, shelter or gifts for their children over the holidays. At the event, everyone can bring food, but if a person doesn't bring food, a fee will have to be paid to eat at the luncheon. It's been a very successful, unique event for Honkamp Krueger.
Also, a weekly donation option for our employees is giving $5 to our Dress for Your Day for Charity to dress casually at work. The money will go to a charity that was previously voted on by the staff.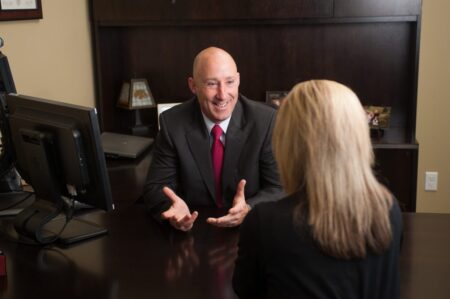 Q: What is Honkamp Krueger's approach to customer service?
A: Our customer service program outlines how every employee should provide exceptional internal and external customer service; internal to each other and external to our clients, referral sources and business friends. Giving quality customer service is our priority, so we provide training and reward employees who make customers their priority. Our employees have the chance to win a customer service award on a monthly and annual basis. The awards are given to employees who pour their heart and soul into this company. It's a big deal; we like to reward our employees for their hard work.
Q: Was there a specific reason Honkamp Krueger became a HEDCO partner?
A: We've been in this community for about 20 years now and have found the City of Hiawatha and HEDCO have been very helpful in building our business. When one of our partners was asked by one of their business peers to be on HEDCO's committee, it was a no-brainer; if there's anything we can do to help the next business owner to come to this community and feel as welcome as we did, we want to.
Q: What are the best benefits of being a HEDCO partner from your point of view?
A: HEDCO offers promotion, involvement, and engagement of our community. By partnering with HEDCO, we have the benefit of others being attracted to this community. In turn, the community grows and resources are poured back in. Along with other businesses, we are awarded by the partnership because we have a say, resources, and benefits that group has since it is helping the City of Hiawatha grow.
Q: Is business proportionally split between each of your services or does one keep you busier than the others?
A: Our business is proportionally split between business advisory, tax, audit, wealth management, and human capital.
Q: What do you want the Hiawatha community to know about Honkamp Krueger if they aren't familiar with your business?
A: When you look at a CPA firm, you think of tax preparers and auditors, but we do much more than that. We also focus on advisory, human capital and wealth management. We can do everything for a business such as running their payroll, employing a human resource division, outsourcing their accounting to our firm, and taking care of their taxes and audits. I think the little-known gem is that they can go to HK and get all of that offered to them.
Q: Does Honkamp Krueger have any plans to expand its operation?
A: Accounting and advisory are where our industry as a profession is going, so transactional compliant work is still prevalent and needed. We're positioned to grow more on the advisory side because of the number of clients we have on a monthly basis where we prepare financial statements and manage their financial situation. We're advising them every day on how to make more money, be more profitable, mitigate the tax yet put away for their future for a healthy retirement.
You can learn more about Honkamp Krueger by visiting their website here.